Eagle On Stage
the inside story
6.5" midrange massive magnet composite cone rubber surround matched pairs
Intelligent Interface Module four amplifiers 600 watts total electronic control driver and amp protection vibration controlling chassis

titanium dome low resonance hand damped fluid cooled matched pairs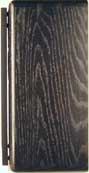 Eagle cabinets are precision machine cut, braced and damped. The cabinet face contains diffraction control. Custom finishes are available. The magnetically attractive grill can easily be removed and reattached for listening.
Every driver has an amplifier of Eagle heritage.
This is how to achieve amplifier damping of dynamic transducers. The Eagle amp driving each midrange is 200 watts. Each tweeter has 100 watts available. The Eagle amplifiers have an open loop gain of typically 430dB. This means unprecedented amounts of feedback may be applied to keep drivers linear. Eagle high phase margin drivers are controlled in a way never before possible.
copyright 2004 Eagle